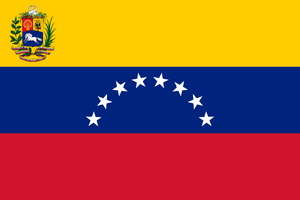 Venezuela, officially the Bolivarian Republic of Venezuela (Spanish: República Bolivariana de Venezuela), is a country on the northern coast of South America, consisting of a continental landmass and many small islands and islets in the Caribbean Sea. The capital and largest urban agglomeration is the city of Caracas.
The continental territory is bordered on the north by the Caribbean Sea and the Atlantic Ocean, on the west by Colombia, Brazil on the south, Trinidad and Tobago to the north-east and on the east by Guyana. Venezuela is a federal presidential republic consisting of 23 states, the Capital District and federal dependencies covering Venezuela's offshore islands. Venezuela is among the most urbanized countries in Latin America;[13][14] the vast majority of Venezuelans live in the cities of the north and in the capital.
During the 19th century, Venezuela suffered political turmoil and autocracy, remaining dominated by regional military dictators until the mid-20th century. Since 1958, the country has had a series of democratic governments. Economic shocks in the 1980s and 1990s led to major political crises and widespread social unrest, including the deadly Caracazo riots of 1989, two attempted coups in 1992, and the impeachment of President Carlos Andrés Pérez for embezzlement of public funds in 1993.
A collapse in confidence in the existing parties saw the 1998 election of former coup-involved career officer Hugo Chávez and the launch of the Bolivarian Revolution. The revolution began with a 1999 Constituent Assembly, where a new Constitution of Venezuela was imposed. This new constitution officially changed the name of the country to Bolivarian Republic of Venezuela. Chávez established populist social welfare policies bolstered by soaring oil prices,[15] increasing social spending, temporarily[16] and reducing economic inequality and poverty in the early years of the regime. In 2013, Chávez died and was succeeded by Nicolás Maduro, who was elected by a narrow majority in a widely disputed election. Maduro continued the populist policies, but with disastrous economic results which triggered another nationwide crisis that continues to this day.
Venezuela has the world's largest known oil reserves and has been one of the world's leading exporters of oil. Previously, the country was an underdeveloped exporter of agricultural commodities such as coffee and cocoa, but oil quickly came to dominate exports and government revenues. The excesses and poor policies of the incumbent government led to the collapse of Venezuela's entire economy. The country struggles with record hyperinflation, shortages of basic goods, unemployment, poverty, disease, high child mortality, malnutrition, severe crime and corruption. These factors have precipitated the Venezuelan migrant crisis where more than three million people have fled the country. The crisis in Venezuela has contributed to a rapidly deteriorating human rights situation, including increased abuses such as torture, arbitrary imprisonment, extrajudicial killings and attacks on human rights advocates.
The country plays a major role in Season 2 of Tom Clancy's Jack Ryan